Image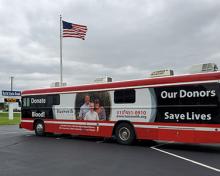 Bath State Bank may promote your event on our Community Board. Please email your event information with a contact number and include all details, if possible, to info@bathstatebank.com. Please do NOT attach a flyer. Please type your information. Thank you.
Entries are limited to schools, civic clubs & organizations, chambers of commerce, churches, local fund raisers, etc.; however, personal entries are excluded. We recommend sending your info at least 14 days prior to the event date. There is no guarantee implied or otherwise made that your event will be included and publishing thereof is at the sole discretion of BSB. This page is published as a courtesy of community service events of general interest to the public.
---
Events Around the Community
 
NOTE! PLEASE DOUBLE-CHECK BEFORE ATTENDING TO MAKE SURE THE EVENT IS STILL HAPPENING PRIOR TO VISITING ANY OF THE LISTINGS BELOW.
September
23: A Fall Gathering at Water Works Market in Liberty. 302 N. Main Street. 4 p.m. - 7 p.m. Menu: pulled pork, baked beans, chips, dessert and drink. Silent Auction will be held at event. Sponsored by UC Historical Society.
23-24: Batesville Kiwanis will host their 33rd Annual AppleFest at Liberty Park in Batesville in honor of the late Jay Reichmuth, long-time event chairperson. We are excited about the addition of Margaret Mary Health Foundation's Suicide Prevention and Awareness 5K beginning at 9 a.m. and Kids Discovery Factory's "Fastest Kid in Town" races launching at 2:30 p.m. – both on Saturday. Live entertainment will include Batesville's Eureka Band performing at 11 a.m. and Marisa Fullenkamp at 1 p.m. on Saturday and Deno Koumoutsos entertaining at 11 a.m. on Sunday. D & B Martial Arts will offer demonstrations at 1 p.m. on Saturday and Miss Lizzy's Performing Arts Academy will feature dancers at 11:30 a.m. on Sunday. The Batesville Memorial Public Library will host children's activities all day on Saturday while Kids Discovery Factory hosts activities on Sunday.  The Kiwanis Trackless Train Ride will roll through the scenic park both days and Kids' Bounce Houses will be on-site while Kiwanis offer a wide variety of sandwiches and refreshments with apple desserts offered throughout the park. Looking for apples?  Look no further as the Villa Orchard will offer a variety of apples along with their famous cider slushies! It would not be autumn without mums, and W A Strassell & Sons returns with their gorgeous assortment of mums and fall décor.
30: #BUBSTRONG Drive-thru Dinner at Brookville American Legion. Drive-thru dinner is 3 p.m. - 8 p.m. 5-piece chicken or 2 pork chop dinner with potato wedges and slaw is only $15. No A-La-Carte. All proceeds benefit the Orschell children.
October
4: Harvest Fest in Liberty. Pumpkin Races, Pumpkin Games & Contests, Chili Contest, Car Show and more!
Harvest Fest Agenda:
11 am – Games/DJ. Drop off for chili competition.
11 am – Pumpkin Decorating Contest 
12 pm – On the Hunt
12 pm – Car Show
  1 pm – Pet Parade/Costume Contest
  2 pm – Chalk Art Contest/Halloween related
  2 pm – Deadline for the Largest Pumpkin and Pumpkin Decorating Competition
  3 pm – Results for all the competitions will be announced
  5 pm – Pumpkin Race
  6 pm – End of Festival
7: Brookville Fire Dept. Reverse Raffle at the firehouse. Free after 7 p.m. for music, baskets and food. Chicken dinner is $30 which includes entry into Reverse Raffle (4 p.m. - 6 p.m.)
10: Union County Historical Society Dinner at Salem Friends Church. Dinner: 6 p.m. Program: 7 p.m. on Hoosier Spies & Horse Marines and History of Third Indiana Calvary. Presented by James Goecker. Dinner is $12. Must RSVP to Vicky at 765-580-0706. 
14: Second Annual OXtoberfest in uptown Oxford. Live music, biergarten, food trucks, games and more! 1 p.m. - 8 p.m. More information to come.
21: Miami University Homecoming Parade, uptown Oxford. Classic cars, floats, tractors, bikes and walking (four-legged friends, too!) Time determined once football game time is announced.