Image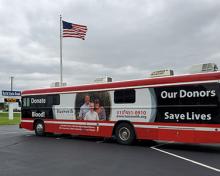 Bath State Bank may promote your event on our Community Board. Please email your event information with a contact number and include all details, if possible, to info@bathstatebank.com. Please do NOT attach a flyer. Please type your information. Thank you.
Entries are limited to schools, civic clubs & organizations, chambers of commerce, churches, local fund raisers, etc.; however, personal entries are excluded. We recommend sending your info at least 14 days prior to the event date. There is no guarantee implied or otherwise made that your event will be included and publishing thereof is at the sole discretion of BSB. This page is published as a courtesy of community service events of general interest to the public.
---
Events Around the Community
 
NOTE! DUE TO THE CORONAVIRUS, PLEASE DOUBLE-CHECK TO MAKE SURE THE EVENT IS STILL HAPPENING PRIOR TO VISITING ANY OF THE LISTINGS BELOW.
Friday Farmer's Market: Located at the bottom of the hill on Main Street in Brookville. Hours are 3:30 p.m. - 6:30 p.m. Fridays.
Saturday Farmer's Market: Located at the municipal parking lot between the former Rosenberger's Market and the police station on Main Street in Brookville. Hours are 8 a.m. - Noon on Saturdays.
October
21: 4-H Family Friendly Trick or Treat at Franklin County 4-H Fairgrounds. 5 p.m.-7 p.m. Join us for a safe and fun trick or treat experience for the youth of Franklin County.
24: Butchering & Sausage Fest at American Legion Post #77, Brookville, is serving the public from 8 a.m. to Noon. Sausage sales and breakfast: sausage, pancakes, scrambled eggs, biscuits/gravy, hashed browns, goetta, fruit cup, orange juice, milk & coffee. Adults--$12 (All you can eat). Children 12 & under--$5. Pre-orders for sausage sales due no later than Monday, October 18, by calling 765-647-4613 after 3 p.m.
29: Eagle Fire Company will hold a drive thru fish fry at Oldenburg Firehouse, Pearl Street, Oldenburg on Friday, Oct. 29, 4 p.m. until sold out. Serving 12 oz. fried cod fish, French fries and Cole slaw for $12/dinner.
30: Trunk or Treat -- 6 p.m.-8 p.m. Join the Brookville Healthcare Center for some trunk or treat at 11049 State Road 101, Brookville.
November
9: Turkey Bingo at St. Peter's Catholic Church Community Building, 1207 East Road, Franklin County.  Doors open at 5 p.m., event starts 6 p.m. Refreshments, sandwiches & homemade pies. All proceeds given to charity. Come and spend an enjoyable evening.
12: College Corner Union School Penny Supper. 5 p.m. - 7 p.m. Carry out. Chicken and noodles, mashed potatoes, cream chicken sandwiches, pie and more. 
12: College Corner Porkapalooza. Smoked pulled pork, ham dinner buffet at The Junction Community Center. 5 p.m. - 8 p.m. Hofer's Ham Salad will be available for purchase. Basket raffle and reverse raffle on site.
13: Delta Theta Tau Sorority will be having a craft show on November 13 at Brookville Elementary School from 9 a.m. to 3 p.m. There will be lots of crafts, food and fun. Spaces are still available by calling Linda at 765-647-6620.
17: The Franklin County Arts Council will sponsor a family Christmas concert by the popular family group, the Collingsworth Family, on Wednesday, November 17 at 6:30 p.m. in the Lew Wallace Auditorium of Franklin County High School. This program will feature holiday favorites by this talented family, designed to get everyone in the Christmas spirit. Tickets are $20, and can be purchased at the Rileybrook Arts Center at 740 Main Street in Brookville, or by calling 765-309-1473.