Image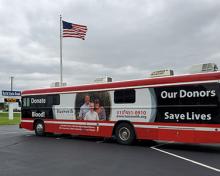 Bath State Bank may promote your event on our Community Board. Please email your event information with a contact number and include all details, if possible, to info@bathstatebank.com. Please do NOT attach a flyer. Please type your information. Thank you.
Entries are limited to schools, civic clubs & organizations, chambers of commerce, churches, local fund raisers, etc.; however, personal entries are excluded. We recommend sending your info at least 14 days prior to the event date. There is no guarantee implied or otherwise made that your event will be included and publishing thereof is at the sole discretion of BSB. This page is published as a courtesy of community service events of general interest to the public.
---
Events Around the Community
 
NOTE! PLEASE DOUBLE-CHECK BEFORE ATTENDING TO MAKE SURE THE EVENT IS STILL HAPPENING PRIOR TO VISITING ANY OF THE LISTINGS BELOW.
October
8: Harvest Fest in Liberty. Antique, classic and model car show. Kids activities, food vendors, fun, contests and more. Pumpkin carving and pumpkin dessert baking contests. Enjoy the spectacle of the Courthouse area transformed into Pumpkin Race Land, where creativity runs wild. Dress in colorful costumes, enjoy fun activities for all ages, make your own pumpkin race car and feel the thrill of competing in the fun-spirited Great Pumpkin Race. This is a free event for the whole family.
15: Vaccination Clinic at The Franklin County Humane Society.1:30 p.m. to 3:30 p.m. at Metamora Gateway Park, US Hwy 52. All dogs on leashes; all cats in carriers. As you enter the Gateway Park, please stay in your vehicle to receive your processing instructions. If there are questions, please reach out through Facebook Messenger (Franklin County Indiana Humane Society) or call 765-647-1444.
15-16: Camden's Black Walnut Festival (back for its 33rd year) to be in Camden. Homemade ice cream, more than 120 vendors, kids activities, food, homemade goodies, pumpkins, wood carvers, contests, parade, car/truck show and more. Camden Comeback is a 501(c)3 non-profit community organization consisting of Camden citizens and business owners and are great partners in supporting and revitalizing our community.
16: Mt. Carmel School Fall Craft Show. Time Noon - 6 p.m. This Sunday event will run in conjunction with the Mt. Carmel School Trunk or Treat. APPLES is a non-profit organization. All proceeds from this event will benefit Mt. Carmel School.
16: K of C Charity Breakfast. The public is invited to the K of C Council 1010 charity breakfast on 8 a.m. until Noon at 333 Main Street in Brookville. Breakfast options will consist of: scrambled eggs, bacon, sausage, biscuits & gravy, pancakes and coffee or juice. Some breakfast items will be sold separately. Proceeds go to supporting seminarians of Indiana through K of C Council 1010.
19: D of I Salad Bar. The Daughters of Isabella St. Catherine Circle #103 will be hosting their annual Salad Bar on Wednesday 19th at the Knights of Columbus Hall, 333 Main Street from 11 a.m. - 1 p.m. The public is invited to all-you-can-eat turkey, gravy, dressing, salads, cookies & drink. Dine in or carry out. Tickets ($10) sold at the door. Purchase advance tickets from Janet Meyer (647-4655).
22: 4-H Fun & Friendly Halloween hosted by the Franklin County Extension Office. It's a safe and fun trick or treat experience for the youth of Franklin County. 6 p.m. - 8 p.m. at the Franklin County Fairgrounds.