Image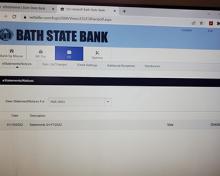 Electronic Statements (eStatements) are an easy and secure way to receive your account statement. Best of all, the service is free! With eStatements -- you can view, download or print an electronic version of your statement that looks just like the paper version you receive by postal mail. When your eStatement is ready, Bath State Bank will send you an email notification.
Reasons to Go Green with BSB eStatements:
Decrease your risk of identity theft as your statement will not be in your mailbox
Password protected and encrypted on a secure web site
Receive your statement faster than with a postal delivery
Utilize your personal preference of viewing your statement online, printing for your records or saving them to your computer
Review up to 18 months of statements at your fingertips
No more shredding cluttered paper statements
Interested in signing up? In order to enroll, you must go through our Bank by Mouse software. When you have signed in, select "ES" for eStatements on the top banner and follow the online instructions to enroll. Once you have successfully completed enrollment, you will receive a confirmation notice.
Not enrolled in Bank by Mouse? Give us a call and we'll get you started.