Image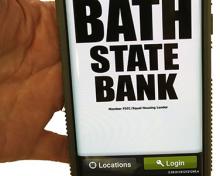 Bath State Bank's Mobile App allows customers to access their accounts on a mobile device. Enjoy the convenience of personal online banking which includes bill payment and remote deposit. Get started by downloading our App through Apple or Android (icons at the bottom of our homepage), and then log-in with your online Bank by Mouse username and password.
Bath State Bank's Mobile Banking is for current customers of the Bank who are enrolled and actively using Bank by Mouse, our online banking and bill pay product. Our App provides our customers the flexibility of conducting bank transactions conveniently and safely. With it, customers can check account balances, view transaction history, transfer funds between accounts, deposit checks into their account and more. The App is easy, and there is no purchase fee.
If you are not enrolled in our Bank by Mouse online banking system, you must first visit the "Enroll Me" page on our web site under Bank by Mouse. For security reasons, you must enroll via a personal computer (not tablet or cell phone.) If you don't have access to this, you may download the form from our Bank by Mouse section and send it to the Bank for enrollment. Once you are enrolled, you may continue to bank by your tablet and/or smartphone, which includes mobile deposit capabilities.
If you "auto enroll" in the Bank by Mouse/Mobile Deposit, you must call the Bank (765-732-3022) to request Bill Pay capabilities. There is no auto enroll for Bill Pay.
Our App for smartphones and tablets is designed to give you fast and secure access to your account information. Bath State Bank does not charge any fees to use the App.
We have included Tips for Mobile Deposit. 
---
What can you do with the Bath State Bank App? 
    Make mobile check deposits (see our Remote Deposit section)
    View check and deposit images
    Obtain balance information
    View transactions
    Transfer funds and pay bills
    Explore detailed account activity
    View balance information
    Access Secure Messages from Bath State Bank
    Change your account password
    Use GPS to access ATM location information
General Safety Tips:
Lock your screen! If someone wants to steal your phone, they will. But you can inhibit or prevent identity theft with a secure code that keeps them locked-out of your phone.
Use caution when you're on a public Wi-Fi system! In stores, hotels and other public locations, there is more potential for a security breach. So avoid online banking over these networks. It's a good idea not to order items from the internet through public Wi-Fi systems too.
Keep your system updated! System upgrades for phones and tablets often include patches that enhance security, so be sure to download creditable updates as soon as you can.