Image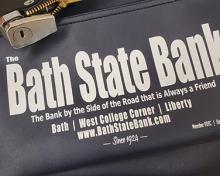 If you transport cash to deposit at Bath State Bank, we have money transport bags for your convenience. Just ask us for one.
BUSINESS CHECKING ACCOUNT
Rate Information: This account does not earn interest.
Limitations: A deposit of $25 is required to open this account.
Account Fees: No minimum balance required; however, if your balance falls into the negative — a bounce protection fee or overdraft fee could apply.
---
EARLY HARVEST MONEY MARKET
Combine the benefits of savings and checking to earn a higher rate of interest while retaining liquidity with our Early Harvest Money Market account.
Rate Information: This account is an interest bearing account. The interest rate and annual percentage yield will depend upon the daily balance in the account as shown on the BSB Interest Rate Chart. The interest rate and annual percentage yield may change. At our discretion, we may change the interest rate on the account at any time. Interest begins to accrue on the business day you deposit non-cash items (example checks.) Interest will compound monthly and will be credited to the account monthly.
Balance Information: We use the daily balance method to calculate the interest on the account. This method applies a daily periodic rate to the principal in the account each day. You must maintain a minimum balance of $5,000 in the account each day to obtain the disclosed annual percentage yield. The balances are tiered, with different rates being paid as the balance moves within the tiers. If the balance changes within the month, the rate also changes to match the balance.
Limitations: A deposit of $5,000 to open this account. You may make six (6) transfers from your account each four (4) week or similar period, if by pre-authorized or automatic transfer, or telephone (including data transmission agreement), order or instruction or by check, draft, debit card or similar order (including POS transactions), made by the depositor and payable to third parties. Transfers and withdrawals made in person, by messenger, by mail or at an ATM are unlimited.
Account Fees: Exceeding the limitations on this money market account could result in the transfer of this account to another type of account.
---
What you will possibly need when opening a Business Account: Proof of Business EIN Number (IRS letter); Legal Documentation such as Articles of Incorporation/Corporate Resolution including who is authorized to conduct business; DBA Accounts - Certificate of Assumed Business Name; 2 forms of ID for all authorized signers.