Image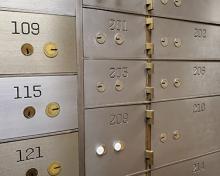 Lock boxes are a convenient place to store important items that would be difficult or impossible to replace. Our boxes offers privacy (only you know what is inside) and security away from home in the event that something happens to your home.
Although many people like to keep valuables close by in a closet, safe or file cabinet at home or in the office, these places probably are not as resistant to fire, water or theft. Also, some insurance companies charge lower insurance premiums on valuables kept in a bank's lock deposit box instead of at home.
Any personal items that would cause you to say, "If I lose this, I am in deep, deep trouble," might be kept in a lock box. Important papers to consider putting into your safe deposit box: originals of your insurance policies; family records such as birth, marriage and death certificates; original deeds, titles, mortgages, leases and other contracts; stocks, bonds and certificates of deposit (CDs.) Other valuables worthy of a spot in your safe deposit box include special jewels and collectibles, negatives for irreplaceable photos, and videos or pictures of your home's contents for insurance purposes (in case of theft or damage.)
Various sizes include: 3 x 5, 4 x 5, 5 x 5, 3 x 10, 3 x 12, 5 x 10 and 10 x 10. Pending availability, all boxes are available in Bath, and those listed with an asterisk (*) are also available at our West College Corner location. Due to space constraints, lock boxes are not available in Liberty.
| | |
| --- | --- |
| 3 x 5 | $12.00 |
| 4 x 5 | $14.00 |
| 5 x 5 | $17.00 |
| 3 x 10* | $22.00 |
| 3 x 12 | $28.00 |
| 5 x 10* | $35.00 |
| 10 x 10* | $50.00 |
The contents of your box are not insured under the FDIC, not a deposit, not insured by any federal government agency and not guaranteed by the Bank or any affiliate of the Bank. Ask your insurance agent about the available options to insure items stored in the box.
REPLACEMENT KEY: If you lose ONE key, you must bring in the additional key for a key replacement. Fee is $30 for one replacement key. If you lose BOTH keys, key replacement and drilling fees will apply at time of service depending upon our third party provider.