Image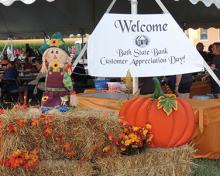 Throughout the past 99 years, the Bank has prided itself on its personal service. Our special events take time-out from our daily routine to show our appreciation for your valued business. Our founding fathers would be pleased that the Bank has held true to its original values. We are proud that we have built genuine relationships with our customers.
We celebrated our first anniversary at our Liberty location in June 2021. If you haven't been to our branch in Liberty, we encourage you to stop by.
Our internal events include . . .
Customer Appreciation Day will be held on Fri., Aug. 18th at all three locations to thank our Bath State Bank customers. We hope you and your family can stop by to see us!
Santa Day, for the children/grandchildren of our customers, is unlike all other trips to see Santa. We transform the Bank in Bath into a magical Christmas village with plenty of activities and Santa time for the children.
Farmer Seminar is offered for our agricultural customers, and is typically hosted in late winter. Topics often include the outlook for the upcoming growing season, grain marketing, estate planning ideas for the farm, new innovation/technology advances, farm safety and such. The next Ag Seminar will be held in December 2023. More details to come later.
Elementary student tours are held each spring season for various grade levels at three local elementary schools. Students come to Bath to see how a bank functions with a morning full of activities that include the history of money, route of a check and interest lesson.
 
In addition, we participate in numerous outside activities such as clerking 4-H livestock auctions, grilling meats for organizations during local 4-H fairs, serving as Junior Achievement volunteers to assist teachers in the local classrooms with topics such as saving, the economy and taxes, Ag Day demonstrators, instructors about the importance of savings and how the economy operates as well as many other volunteer positions.