Image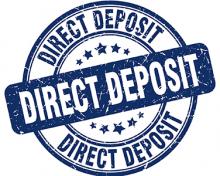 Direct part of your paycheck/benefits check straight to your account for free. Our Direct Deposit service moves your money electronically. You don't have to mail or drive your check to the Bank. If you are on vacation, no need to pick-up your check at your place of employment. 
Download our simply form and take it to your employer today. They handle it from there. Direct Deposit is simple, safe and secure. There are no checks to be lost or misplaced.
Try it . . . you'll like it.
Forms/Info Needed:
First time Direct Deposit, please give your employer/entity:

"Bath State Bank" (name of financial institution)
Routing Number (click to see how to find)
Account Number(s) - Multiple if dividing between checking and saving

Direct Deposit CHANGE form (switching your deposit from another financial institution)