Image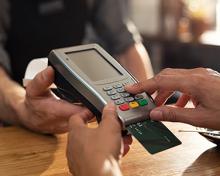 Bath State Bank and Elavon Financial Services offer a comprehensive Merchant Machine Services Program. For more than 25 years, Elavon has been a leader in payment processing, leveraging the world's best technologies for our partners from large worldwide enterprises, to locally owned small businesses. Together we offer a customized credit card processing program tailored for your business.
A smart point-of-sale terminal can help you maintain the appeal and momentum of local business, keeping customers coming back time and again. With Bath State Bank and Elavon, you can accept all major credit cards including VISA, MasterCard, Discover, American Express and the full range of card types from purchasing cards to debit cards. Our goal is to provide you with the most efficient payment processing while helping you to reduce operating costs, improve cash flow and minimize exposure to fraud and risk.
Go beyond the store floor or kitchen: be ready to take payments from customers any way, anywhere and across every channel. Online, over the phone or by mail order -- we'll deliver solutions that enhance the shopping experience wherever it takes place.
Merchant Services
Complete point-of-sale of Merchant Services
Swift funding for MasterCard, Visa, Discover and American Express transactions
All major credit and debit cards accepted
Online reporting
Convenient, easy to read monthly statements
Technical support 24 hours a day, 7 days a week
Give us a call to see what we can do for you and your business.