Image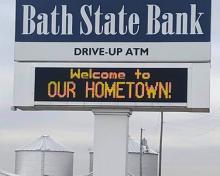 Our Mission Statement is simple . . .
"Building genuine relationships with our customers and community by caring for them like family."
At Bath State Bank, our community extends beyond the Indiana "town limits" of Bath, West College Corner and Liberty. We support numerous endeavors and volunteer with various organizations in Indiana and Ohio to help build a stronger community.
Just to name a few . . . our staff hosts tours to grade-school children, raises funds for local county-based cancer support groups and Junior Achievement, supports the 4-H youth in about a dozen area counties, serves as clerks for various 4-H livestock auctions, has presented banking topics at seminars, has conducted grain marketing seminars and lends talents to various agencies such as Extension, Junior Achievement and high school Reality Days. These are just a few examples of our staff's involvement within the community.
We are "The Bank by the Side of the Road that is Always a Friend." Switch to Bath State Bank to experience a difference in banking!