Image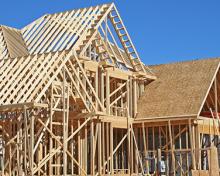 Building a house is a daunting task; however, our experienced loan officers will provide assistance to individuals in securing the necessary funds to make dreams come true.
A "construction loan" is a mortgage that funds the construction of a new home. Once the loan is set, the borrower has unlimited number of draws. Our construction loan program is hassle-free. In addition, Bath State Bank has an in-house person who can complete the inspection.
Bath State Bank is a popular lender for construction loans. We allow the borrower to act as their own general contractor. The borrower has 12 months to build and complete the home. A few items to note include:
Hassle-free and flexible
12-months to build/complete your home
Allows borrower to be own general contractor
Unlimited number of draws
80% loan-to-value
Bath State Bank completes inspections
Payment made at Bath State Bank
Eligibility for potential borrower:
12 months to build and complete your home
80% loan-to-value
No minimum
Information needed to process your construction loan:
More details will be provided upon an appointment with a Bath State Bank loan officer.
For more information, please call us at 765-732-3022 (toll free at 800-463-7464) to talk with a loan officer in Bath, West College Corner or Liberty.
All loans are subject to credit approval