Image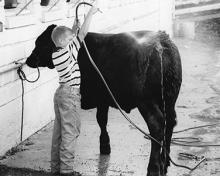 Bath State Bank's Youth 4-H/FFA Project Livestock Loan Program is aimed to assist active 4-H and FFA members with their finances of income-producing, agriculture-related 4-H/FFA projects and teach the value of responsibility.
Loans range from $200 to $2,500 for purchase of livestock and feed, and are limited to one per eligible borrower. The borrower must track income and expenses throughout the duration of the project. The project must produce sufficient income to repay the loan and provide the youth with practical business and educational experience in agriculture-related skills.
Loans are intended for 4-H projects involving cattle, swine, sheep, goats, poultry and rabbits. The project must be an organized and supervised program of work, and have the consent of a parent, guardian or other co-signer. The project must also be planned and operated with the assistance of the 4-H club advisor or county extension agent.
Typically, project fund request occur November to April as the child acquires the animal. For more information, please call Bath State Bank and ask to speak with our Ag Department at 765-732-3022.