Image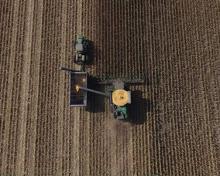 LAND LEASE WORKSHOP NOV. 12
Purdue Extension is offering an online program called "More than a Handshake: Building Successful and Equitable Land Lease Agreements" for $25 per household/farm. Participates can choose 10 a.m. - Noon on Nov. 12 OR 6:30 p.m. - 8:30 p.m. Nov. 17. Topics include enhancing your ability to negotiate an equitable lease, understanding various ways to determine rental rates, etc. Speaker is Attorney Anthony Crowell. For more info, call 765-653-8411.
---
WINTER 2021 AG SEMINAR
Pending Indiana state gathering restrictions, more details will be communicated with our agricultural customers after the new year.
---
PLANTING FALL COVER CROPS
We are now approaching the time of year to think about planting fall cover crops. Cover crops can serve many purposes, ranging from erosion control to nutrient sequestration. Depending on the type and species of cover crop, benefits range from providing a Nitrogen source, scavenging nutrients to decrease leaching potential, acting as a soil builder, preventing erosion, fighting weeds, acting as a forage, conserving soil moisture, and enhancing wildlife habitats.
Benefits of certain types of cover crops:
Legumes: Can be used as a Nitrogen source due to their ability to fix atmospheric nitrogen into the soil. Many have good or excellent forage value, such as many clover species, alfalfa, and winter pea
Brassicas: Many are good weed-fighters, such as turnips, oilseed radish, and mustards. Many have good grazing and forage value, such as canola, turnips, and oilseed radish
Grasses: Good erosion fighter due to fibrous root systems. Many have excellent grazing or forage value. Good nutrient scavenger due to vast root system.
Cover crops can be seeded in ways to fit any operation. They can be broadcast with or without shallow tillage, drilled, aerial-seeded, or frost-seeded. There are considerations for each seeding method, however. The chosen cover crop must have seeds small enough to fall into cracks formed as the frozen ground goes through freeze-thaw cycles to frost-seed. It is often advised for aerial seeding to increase the seeding rate due to the lower chance of achieving seed to soil contact. Cover Crop stands are usually more uniform after drilling or broadcast with incorporation compared with the other methods. Cover crops emerged sooner and in higher densities after drilling compared with broadcasting (Brenan, E. & Leap, J., 2014.)  
Timing when you plant your cover crop species is an important step, especially as we progress into late fall. Depending on whether the chosen species is winter-hardy or winter-killed can determine when it should be seeded. What type of crops you have grown or plan to grow in your operation type and the goals you want your cover crops to achieve can dictate the planting window. To find out the ideal planting window, characteristics, potential advantages, and disadvantages for your area and chosen cover crop, visit https://mccc.msu.edu/selector-tool/ to utilize the Cover Crop Selector Tool from Midwest Cover Crops Council.
When planning how much cover crop seed to purchase, it is important to understand the concept of Pure Live Seed. Seeding rate recommendations are reported as pounds of Pure Live Seed per acre, which is calculated as follows:
% Purity * % Germination = Pure Live Seed (PLS) Rate
If you have a 62.5% PLS Rate and need to seed 15 pounds PLS per acre, you will need 24 bulk pounds of seed per acre:
15/0.625 = 24
It is essential to understand that specific programs, such as EQIP or H2Ohio, may have requirements for rates or planting dates that must be met to receive your payment. Check with your local NRCS, Soil and Water Conservation District or FSA Office for information about programs you may be enrolled in.
It is also crucial to know how to terminate the cover crop you choose to plant. Some cover crops are winter-killed, but winter-hardy species may cause problems with the following season's cash crop if they cannot be controlled or killed. Rogue cover crops can become weeds in your field and compete with your cash crop for nutrients, space, water, and light.
C.O.R.N. Newsletter is produced by the Ohio State University Extension Agronomy Team, state specialists at The Ohio State University and the Ohio Agricultural Research and Development Center (OARDC). C.O.R.N. Newsletter questions are directed to Extension and OARDC state specialists and associates at Ohio State. Authors: Sarah Noggle, Rachel Cochran
---
IS YOUR FARM POSITIONED TO GROW?
The world of Agriculture is continually evolving. In general, the number of farms are decreasing and the size of remaining farms are getting larger. Challenges and opportunities may come at any time. This begs the question, "Is your farm positioned to grow?"
Whether looking to grow because a new family member is coming back into the operation or the operation is attempting to improve profit margins, it's important to have a well thought-out plan. Being aware of the operations' current financial situation is the first step. A few important financial indicators to keep in mind: working capital position and how that has changed over time, capital required to meet growth goals, as well as cash flow capabilities. Ag lenders should be able to help discuss and review these.  
There are many other important questions to consider before expanding or growing. Is the operation currently profitable? Will the proposed opportunity for growth help the operation improve that profitability? What is the current debt situation? What risks are involved? It is important to consider the worst case scenario, best case scenario, and most likely scenario when evaluating growth options.
Often times when farmers think about growing, the first and only thing that comes to mind is expansion by obtaining more acres. Farm growth really could mean growing sales and becoming more profitable. This may or may not involve more acres, depending on each situation and opportunity. The goal may not be to expand the operation, but to maintain acres and stay competitive in the marketplace. Diversifying the crops grown or livestock raised could also be forms of growth.
As the saying goes, "getting better before you get bigger" may allow the operation to more readily take advantage of those opportunities to expand when available. Many farms have improved and grown over the years due to a high level of financial management.
With today's agricultural environment, there is certainly risk and uncertainty. Having a well thought out plan and knowing the financial position of the operation can help farmers determine what options for growth are most suitable for success.
 
---
Need Crop Insurance? We Have One-Stop Shop
Bath Insurance Group offers crop & livestock insurance. D/B/A Orr & Associates, Bath Insurance Group has an office at Bath State Bank in Bath. For more details, please call Anya at the Bank or at 800-209-7238. Visit the web site at http://www.BathInsuranceGroup.com.